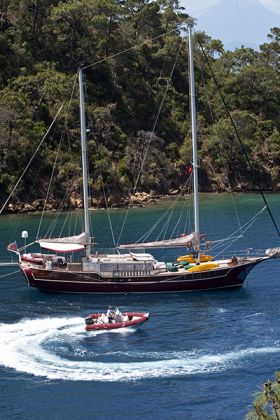 Yacht Rental Turkey
Yacht Rental Turkey, crewed motor yacht or gulet charter in the warm waters of the Mediterranean or the Aegean. With motor sailing gulets in traditional style and your choices, are endless. Yacht Rental Turkey portfolios are huge and the price range is immense, alternative itineraries are open for you to choose amongst the best yacht cruise locations in the world.
A sailing gulet is traditionally all wooden Gulet yacht built for cruising in the warm waters of the eastern Mediterranean. These yachts are built to center life on deck during the charter. A spacious stern deck and housing a half-moon-shaped dining area are their main features.
If your dreams are endowed with too much imagination and you would like to be served dinner by candlelight under the stars or breakfast in the morning sun, then do not despair, yacht rental Turkey offers such a holiday. Gulet Rental and yacht charter holidays in Turkey.
Eternal Friendship with Yacht Rental Turkey
The warm climate and traditional hospitality of Turkish people plus the eternal intimacy between Anatolia and the mediterranean sea. Yacht rental Turkey in Turquoise waters of Turkish riviera conjures visions of deep blue skies and pristine waters with breathtaking scenery.
Yacht Rental Turkey is not only possible but well affordable compared to other destinations such as Antibes or Monaco with silver plate services. You can experience the magic of yacht rental in Turkey on your luxury yacht charter concept which is called a Turkish gulet in the eastern Mediterranean plus motor yacht rental with famous brand names like Ferretti, Benetti, Carver, Fedship, Pershing, Riva, Searay, Sunseeker, etc. which are very well known and worldwide approved luxury motor yacht builders.
Yacht rental is possible in the Turkish Riviera and the Greek islands, hundreds of miles of picturesque, unspoiled, and uncrowded coastline, cooling off swimming in sparkling clear waters, sipping an icy cocktail on board one of our yachts where we assure your privacy and unrivaled comfort.
The new generation Turkish gulets are built with state of the art technology and they all come in with full air conditioning hot and cold water and even with a jacuzzi on board. They are the Rolls Royce of the gulets. The number of passengers of a gulet varies, according to her size, between 8 and 16. from 17 to 40-meter boats, that is quite a breathing space for each person considering that every passenger has private quarters and showers jointly used decks, saloons, etc. are quite spacious.
Yacht Rental Turkey ,
Bodrum, located on the coast of the Aegean Sea, is another popular destination for Yacht Rental Turkey. The town is known for its picturesque harbor, which is home to a number of restaurants, cafes, and shops. Bodrum is also home to the famous Mausoleum of Halicarnassus, one of the Seven Wonders of the Ancient World.
Fethiye, located on the coast of the Mediterranean Sea, is another popular destination for Yacht Rental Turkey. The town is known for its beautiful beaches, clear waters, and picturesque harbor. Fethiye is also home to a number of ancient ruins, including the ancient city of Telmessos, which is located just outside of town.
No matter which destination you choose for your Yacht Rental Turkey, you are sure to have a memorable and enjoyable experience. Whether you are looking for relaxation, adventure, or a combination of both, there is something for everyone on a Yacht Rental Turkey.
Overall, Turkey is a fantastic destination for a Yacht Rental, offering a wide range of options for travelers of all budgets and preferences. Whether you are looking for a luxury yacht or a more affordable sailing boat, you can find a charter that is right for you in this beautiful and diverse country.