Yacht Rental in Turkey
Yacht Rental in Turkey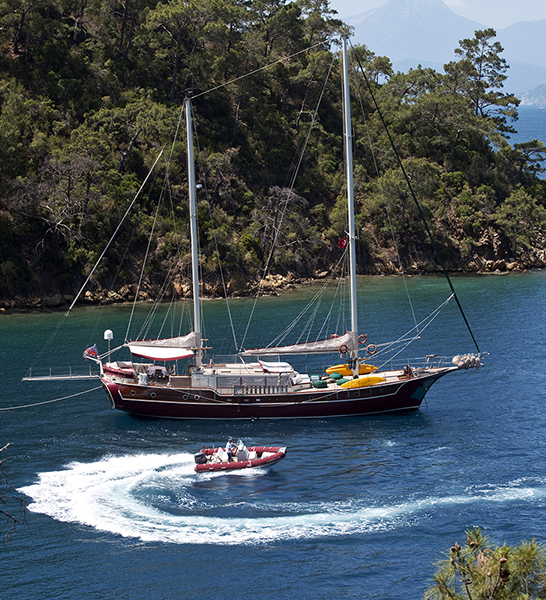 If your dreams are endowed with imagination and you would like to be served dinner by candlelight under the stars or breakfast in the morning sun, then don't despair. Turkey offers such yacht rental in Turkey. Crewed yacht of luxury gulet rental, sailing or traditional style, the choices are endless, yacht portfolios are huge, the price range is immense and the itineraries are open for you to choose amongst the best in the Mediterranean.
A gulet is Traditionally a wooden motor sailing yacht rental in Turkey for cruising in the warm waters of the eastern Mediterranean. These yachts are built to center life on deck during the charter. Spacious stern deck and housing a half moon shaped dining and lounging area are their main features.
The new generation gulets are built with state of the art technology and they all come in with full air conditioning, hot and cold water, and even with jacuzzi on board. these are the Cadillac of the gulets. The number of passengers of a gulet varies, according to her size, between 6 to 16 guests their length from 18 to 42 meters, that is quite a breathing space for each person considering that every passenger has private quarters and showers jointly used decks, saloons are quite spacious.
A yacht rental in Turkey can be compared to reserve a small floating hotel, where there are double berths in each cabin and every cabin has its own shower. The crew sleeps and uses the facilities in their separate cabins.
Common quarters include a large saloon, a fully equipped galley operated by a chef, lots of uncluttered deck space, sun mattresses were strewn all over to laze on while tanning. Most transom and round sterned gulets have a mattress covered perch in the aft that is called a "Pigeon's Nest".
The most comfortable place to lounge or nap on the boat, protected by sun awnings. Unlike a bareboat, which is often limited in water supply, deck and cabin space and a gulet offer the chance to wash off the salt after every swimming party, as they can store up to 10 tons of freshwater. The most important issue on a gulet charter is not the year of build but the technical condition of the vessel, amenities, and the yacht crew.
Comfort Of Yacht Rental in Turkey

The price of renting a gulet depends on the gulet size, its comfort, and luxury equipment on board. The electricity voltage at the vessel is 12-24V DC and 220V AC so you should inform the captain if you have a notebook, electric razor, or a DVD player with you to show you which current is suitable for you.
What do you need to take with you on board? A digital photo camera and batteries and/or chargers first of all! A casual form of dress at the vessel is a swimming suit. You also need to take sports shoes for walking, and also clothes for cool evenings in some seasons. Don't forget one more swimming suit, suncream, sunglasses, beach shoes, and a hat. If you wish to spend a night at the deck, you need a sleeping bag or a blanket (especially on Autumn nights). During your trip you will have time to read, so don't forget to bring your favorite book.
The Mediterranean and the Aegean sea are so blue that the Turks call it a blue cruise or blue voyage. Usually, the term refers to a trip aboard a gulet, a traditional Turkish wooden crewed Gulet with a considerable luxury aboard. Luxury yacht rental in Turkey is blue cruising with motor yachts, sailing yachts, and luxury gulets. Departing from Marmaris, Gocek, Fethiye, or Bodrum, precisely Southwestern Turkey. The most convenient way to cruise to relax, all you need is a gulet.
These boats have mostly mahogany interiors and staterooms with en-suite bathrooms, large teak decks for dining and sun tanning, well-equipped galleys, and air-conditioning. It is possible to rent a smaller size or a large gulet to cruise and enjoy the weekly charter with your loved ones in full privacy and a say to choose its itinerary.
We offer all-year-round gulet and power yacht rental in Turkey in the southwestern Turquoise coastlines of Turkey and the neighboring Greek islands. Other options with us besides yacht rental in Turkey are yacht sales and yacht building. We have a large portfolio of gulets and motoryachts which you might want to check out before making a decision.